Abstract
Climate change is considered one of the major challenges currently facing the world. Many countries have set up their Net Zero targets to combat climate change. Our integrated multi-energy infrastructure (electricity/gas/heating/cooling/hydrogen/transport) will not only play a crucial enabling role for a green carbon neutral future, but also become a driving force which accelerates the journey to net zero. Energy infrastructures exist primarily to tackle the temporal and spatial diversity in energy conversion and use and to exploit economies of scale where they exist. The energy trilemma (energy security, environmental impact and social cost) presents many complex interconnected challenges which have huge relevance internationally. These challenges vary considerably from region to region due to historical, geographic, political, economic and cultural reasons. As technology and society changes so do these challenges, and therefore planning, design and operation of the integrated multi-energy infrastructure needs to be revisited and optimised in order to integrate various renewable energy and low carbon technologies and driving the transition to Net Zero. This talk will use a whole systems approach to analyse the interconnected and interdependent nature of multi-energy infrastructures, and discuss their roles in the Net Zero transition.
BIOGRAPHICAL NOTE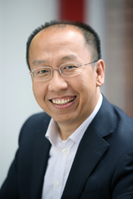 Prof. Jianzhong Wu is Professor of Multi-Vector Energy Systems and Head of School of Engineering at Cardiff University. His research focuses on Smart Grid and Multi-Vector Energy Systems. He has contributed to more than 60 EC, EPSRC and industry funded projects as a Principal Investigator or a Co-Investigator. He has published more than 300 peer-reviewed papers and is a co-author of books "Smart Grid: Technology and Applications" (2012, Wiley), "Smart Electricity Distribution Networks" (2017, CRC) and "The Future of Gas Networks" (2019, Springer).
He is a Co-Director of the UK Energy Research Centre and Associate-Director of EPSRC Supergen Energy Networks Hub. He is a member of the UK Government BEIS Taxonomy Energy Working Group, Member of Northern Powergrid Science and Technology Advisory Panel; Member of Scottish Power Energy Networks Independent Net Zero Advisory Council; Member of the Scottish Power Energy Networks Strategic Stakeholder Panel for England and Wales; and Member of the Wales Smart Energy System Group. He is also a member-at-large of the IEEE Technical Committee on Carbon Neutrality. He is co Editor-in-Chief of Applied Energy journal, Fellow of Energy Institute and Fellow of the Learned Society of Wales.
He is co Editor-in-Chief of Applied Energy journal, Fellow of Energy Institute and Fellow of the Learned Society of Wales.